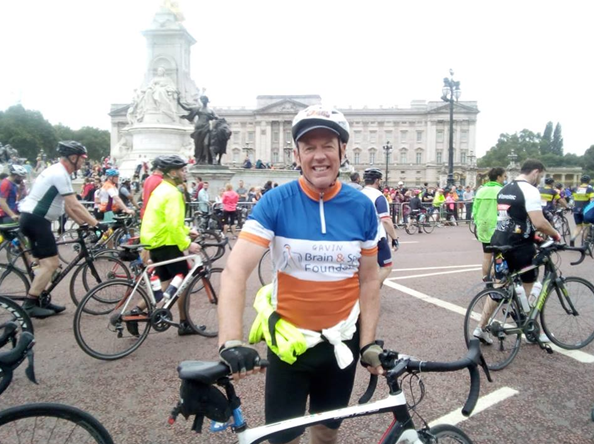 I first heard about the Brain & Spine Foundation through my dad, Norman Tovey, who was part of the charity's 2004 London Marathon team (when he was 80 years young!) He had previously received help from the charity after he underwent pioneering brain surgery with the BSF's Vice Chairman Peter Hamlyn.

After my dad passed away, I ran the London Marathon with my daughter Emma in 2015 in his memory and to raise money for the foundation.

This year I wanted to mark the 30th anniversary of a bike ride I made with my dad from Land's End to John O` Groats alongside the staff and pupils from Cobham School. I chose to take part in the 100-mile Prudential RideLondon and use the challenge as another opportunity to raise funds for the Brain & Spine Foundation.

This was my first RideLondon event and I really enjoyed the whole experience. As soon as I arrived on the starting line at the Olympic Stadium the rain began, only to stop when I was about 15 minutes from the end of the ride: a few days earlier we were contemplating how much sun cream we would need!

Despite the weather, the ride was a superb event, with lots of organised stop areas along the way with toilet facilities, mechanics, and food including various energy bars and drinks. I was fortunate not to suffer any mechanical issues on the way around, but it was great to see the camaraderie amongst the riders, with people stopping to help others along the way if they had picked up a puncture. The cheering crowds along the route gave everybody a lift and it was a joy to cycle on some of London`s famous streets while they were closed to other vehicles.

The ride was very well organised, with friendly marshals along the way. One of the highlights was being met by my family in the Surrey Hills area, which was a great boost to keep me going. They were following my progress on the RideLondon App so knew where I was at all times!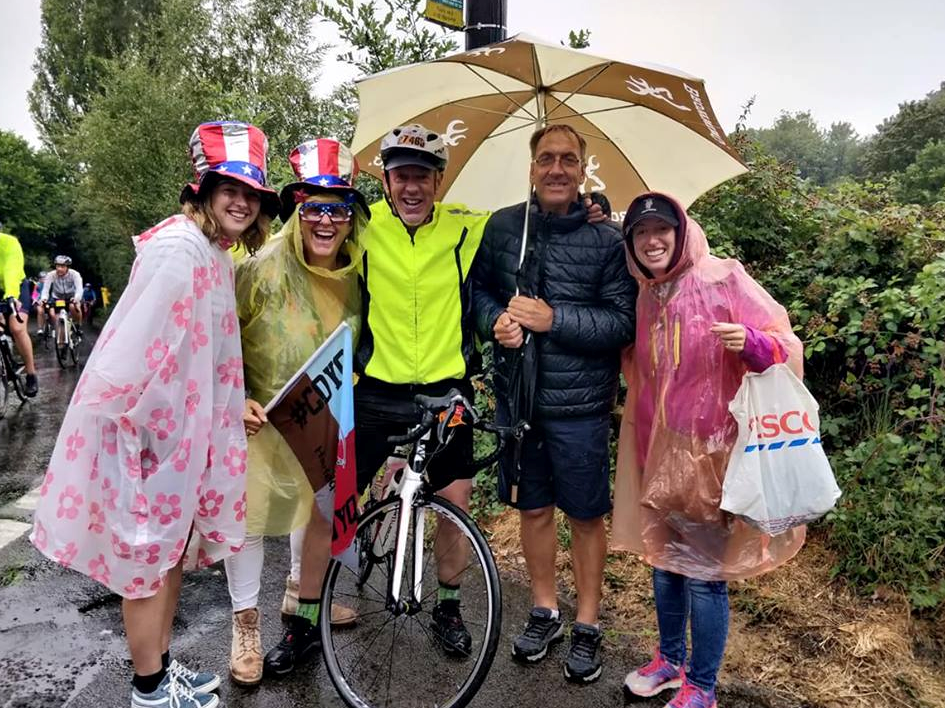 My start time was 8.36am and I finished at 3.11pm – 6hrs 35min in total. Members of #TeamBrainandSpine met after the ride to congratulate each other and share stories. It was great that Andrew from the Brain & Spine Foundation had set up groups on WhatsApp and Strava so that we could keep in contact and see what everyone else had been up to. It also provided inspiration for us to get out and do more training!

I reached my fundraising target for the Brain & Spine Foundation on the VirginMoney Giving on the evening before the ride, with hopefully still more money to come in.

The event has been a great focus for me to cycle regularly, eat more healthily and try and loose a few kgs!

A massive thanks to my family for all the support along the way and to my dad `Super Norm` for inspiring  me to get involved with the Brain and Spine Foundation.
  
The next challenge is the Brain & Spine Foundation's Clacton Triathlon this September – why not get involved!

Thank you

Gavin