A message from Peter Hamlyn
Brain & Spine Foundation Founder and President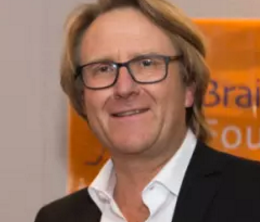 The brain and its spine are our most precious possessions: they are where and how we live. Yet, 31 years after setting up the Brain & Spine Foundation, I am dismayed that the UK is still so woefully under-resourced in this key area of public health. 1-in-6 people in the UK are living with a neurological condition – that is more than cancer, heart disease and kidney failure combined. From spina bifida to meningitis, head injury, stroke and dementia, they affect all ages.
And yet, the provision of specialist treatment and care remains so appallingly low.
Take one example, head injury, one of the biggest killers of young people; more patients suffering a head injury, serious enough to require admission to hospital, have that care provided by orthopaedic surgeons rather than a neurosurgeon! In the UK it is the minority of people that ever see a neurologist after a stroke. This does not happen for broken bones or broken hearts, just broken brains.
To me this is a scandal. For patients it is all too often a needless tragedy.
Today our cause is as clear and compelling as ever; Neuro must be visible and recognised as a serious public health issue. As a community we are all Neuro Changemakers. Together, let's take action today.
Our history