Brain & Spine Foundation awarded £330,000 grant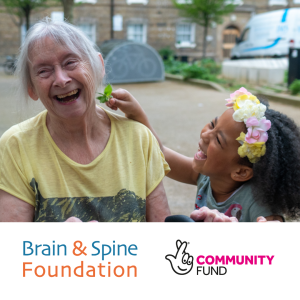 Brain & Spine Foundation awarded National Lottery funding
We are thrilled to announce that we have been awarded a £330,000 grant over three years from The National Lottery Community Fund. The funding will enable the charity to develop our social research platform NeuroLifeNow and expand our Professional Neuro Services. The grant will drive change for our community, improve quality of life across England, and strengthen our partnership with the Neurological Alliance.
At least 1 in 6 people are living with a neurological condition, with many closest to them also affected. The new funding from The National Lottery Community Fund, which distributes money raised by National Lottery players for good causes and is the largest funder of community activity in the UK, will enable us to support more individuals affected by a neurological condition through our Helpline, peer support groups and health information resources. It will also support the build and new release of our social research platform NeuroLifeNow, which collects lived-experience evidence from our community to drive improvements in services, care and treatment options locally and nationally.
Marc Smith, Brain & Spine Foundation CEO, said:
"We are delighted to have received such a significant grant at such a pivotal time at the Brain & Spine Foundation. In the UK, there are more people living with a neurological condition than cancer, diabetes or heart disease. Every day, our community are telling us that they feel invisible and change is needed urgently. Now is the time to take action, and with this generous funding we hope to make real and positive change for anyone affected by any neurological condition. I wanted to say a huge thank you to every National Lottery player for their contribution to this grant, which will make such a valuable difference to our community."
Georgina Carr, The Neurological Alliance (England) CEO, said:
"More than 1 in 6 people across the UK live with a neurological condition, and too often they experience long waits for treatment or support that isn't right for them. At the same time, our health and care workforce are under huge pressure, and need support to deliver treatment and care. That is only possible by listening to people affected, ensuring their experiences are at the heart of change and improvement. That's why NeuroLifeNow is so exciting, and why the National Lottery's generous support is truly groundbreaking – together, we can now build treatment, care and support that is tailored to the experiences and needs of people with neurological conditions, and play our part in backing the 1 in 6"
Last year The National Lottery Community Fund awarded over half a billion pounds (£588.2 million) of life-changing funding to communities across the UK and supported over 14,000 projects to turn their great ideas into reality. National Lottery players raise more than £30 million each week for good causes throughout the UK. To find out more visit www.TNLCommunityFund.org.uk.