Vicky's story
During the last two years, I noticed my movement and mobility decreased and I was feeling a constant numb, weak and painful sensation in my legs. I have always been very fit – I ran the London Marathon in 2016 and have been a member of Birchfield Harrier Premier Athletics Club for ten years. I have always run for fitness reasons but noticed I began to struggle. I initially thought that I was just a little unfit, so I continued running and tried to maintain my fitness levels but it became unbearable, both physically and mentally. I felt very lethargic, had constant numbness, loss of balance, pain and weakness in my legs. I was struggling to simply walk to my local shops and I couldn't run or do anything strenuous anymore.
This started to take a toll on me mentally, but luckily I have great support around me and my husband has always been there to put a smile on my face.
In September 2020, I decided to go to the doctors and expected to be told that I had a trapped nerve or something similar. I had many MRI scans, blood tests and physical examinations. Then on 3 December 2020, I was diagnosed with cervical transverse myelitis.
A 'mass' was found in my neck area caused by inflammation within my spinal cord. This meant that signals going from my brain to the rest of my body had been blocked and was causing all the symptoms that I had been experiencing. Suddenly everything I had felt made sense and I felt relief that I finally knew what was going on.
I am now on a strong course of medication to try and relieve some of my symptoms. I have only been taking them for a short period of time so it is still early days, but I hope that these will help to make my condition more manageable each day. I have also been referred to a clinic at the Queen Elizabeth Hospital to help me manage and monitor symptoms, plus I will be helping their Neuroimmunology team in research and trials to help progress the available treatments of this particular condition.
I have had to learn how my physical limits have changed. I can no longer go running. This is something that knocked my confidence and my condition has taken away something I love to do. I also used to get the train into town and walk to work but now I drive and park at work instead. My work have been very understanding.
The biggest thing for me has been learning to accept my condition and adapt to it – for example, I have invested in a spin bike so I can still exercise at home at my own pace.
Mentally, I try to be as kind to myself as possible. There are many things I cannot do which I find frustrating, but I need to learn to accept that and try things in a different way instead. I also need to keep talking to people, whether that be my husband or parents, or even to my colleagues – partly for my own acceptance but also to ensure people understand how I am feeling.
After being diagnosed, I did some research and found the Brain & Spine Foundation booklet on transverse myelitis. This online resource was one of the most helpful things I found. The condition is different for everyone but it was great to have the basic information in one booklet, not just for me but also to share with family and close friends for their knowledge too.
I wish my family and friends knew exactly what it feels like with this condition. I can describe it until the cows come home, but unless someone has experienced it they will never fully understand. However, I am so grateful to have them around me and for all their support!
If someone is at the beginning of an experience like mine, I would encourage them to talk to someone. Doctors will do everything they can to help and support you, but your family, friends and colleagues need to know and understand how they can support you too. Plus, there are others out there, like me, who are in the same situation who will always be willing to talk!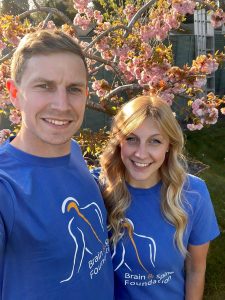 Sharing your story helps drive positive change for people affected by neurological conditions. We like to share the experiences of real people who are using, fundraising or volunteering for our services to help raise awareness of neurological conditions.
There are many ways to share your story with us – in written format, as a video recording or an audio recording, we even have people share their story through artwork. It's up to you which you most feel comfortable with.
To share your story, get in touch with us. We'd love to hear from you.