Mary's story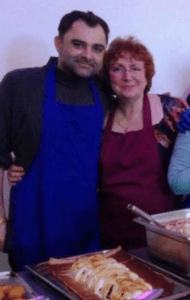 I was born with Cerebral Arteriovenous Malformations before anything was known of this condition. I had debulking surgery in 1988 which removed most but not all the varices. Two were inoperable, one behind my right eye too close to the Optic nerve, the other is attached to my Right Trigeminal nerve. I get regular proptosis and pain, Trigeminal Neuralgia and can pass out from lack of oxygenated blood. I had a fall in 2021 and since then I have mild Aphasia.
I felt completely isolated as when I had surgery there was no internet or support groups. I have had to be careful not to lift anything heavy, avoid stooping and since my relapse in 2006, sleep in a rise and recline chair to ensure the blood drains from my head. This is my new "normal".
Finding the Brain & Spine Foundation's leaflets and joining the support group online has transformed my understanding, and I now feel there is support and information which is great. Sadly my ex GP deleted my entire record of surgery in 2013 as my condition was so rare, there was no code to carry the data from EMIS to SYSTMONE. I changed GP, but did not meet him face to face for almost 2 years because of Covid 19. The most important thing is to get linked to the support offered by the Brain and Spine Foundation, get well informed about your condition/s and benefit from the coping strategies others have learned to use. Being informed removes the fear. For example, there are vitamin supplements that are helpful to take. Making sure your GP understands your condition is also essential.
I have learned an enormous amount from the other people participating in the zoom support group, as well as the information booklets published by the Foundation. I no longer feel so alone and am able to access other assistance. You can call the helpline and talk to a person on a one-to-one basis too. There is a legal helpline dedicated to those who are affected by Brain and Spine conditions.
It is possible to live with a condition by ensuring you follow advice, keep a heathy diet, have regular quality sleep, self-care and being gentle with yourself. Use your mobile phone to record all important dates and tasks. Do not try to do too much, prioritise and do the most important things, if it can be done tomorrow, reschedule. Have at least one close friend or relative who is aware of your needs. Do not be ashamed of asking for help and advice.