Gordon's story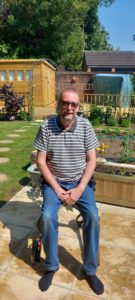 Hello everyone, 
My name is Gordon, I am 62 years old and live in Gloucestershire. I'm married to Debbie, with two grown up adult children and have the blessing of four grandchildren. I worked as a Forester from the age of 16, moving through the ranks to Assistant Head Forester and Head Forester for a large Government department in Norfolk. I then ran my own retail ironmongers for number of years. I have also worked as a Transport Manager and as a Utility Arboriculture Surveyor where I inspected power-lines to safety protect them from vegetation.  
In March 2018, I contracted a virus and was taken into the emergency unit of my local hospital with breathing and other issues. I then contracted another virus just under a year later.  I went from being a very fit and able person to one who was suffering from a multitude of health issues with associated limitations and symptoms. It was in June 2020 that I retired due to ill health in agreement with my employer. 
In September 2021, I started experiencing severe back pain. I consulted my GP and was sent to Musculoskeletal Department for examination. They told me it was just a muscle issue. Shortly afterwards, I started experiencing more severe back pain, vomiting, bowel and bladder issues which became progressively worse and resulted in another admission to hospital. My temperature was at 41.5⁰ and I was diagnosed with a severe urinary tract infection (UTI) and given antibiotics to control it. During that hospital stay, one of the doctors came for the chat before being discharged and my wife and I suggested that I may have Cauda Equina. My symptoms were all of those listed on the NHS website as red flags for this condition. But our comments were ignored and dismissed without any further action. 
In December 2021, I had a referral to St George's Hospital in Tooting for possible Functional Neurological Disorder (FND). During his examination he stated he had read my notes and asked where the results from the 6 monthly MRI scans (that had been requested by my spinal consultant in 2019) were. My wife informed him that they had never been done and after a physical examination, the consultant stated that he could do nothing for me until new MRIs were done. He wrote to my GP and these were done within a couple of weeks or so. 
However, my symptoms did not go away and after a short period we spoke again with my GP about my increasing pain, sciatica, numbness in my feet, toes and saddle area, very cold feet, and hip pain. I was once again referred to hospital and had a physical examination where I was told not to leave and given an MRI scan. This showed my spinal cord had been severely compressed, along with the nerve bundles in my lumbar spine, by a severely herniated disc. I underwent emergency decompression surgery.  
I was told that all went well and was discharged. After 2-3 weeks of recovery, one evening I coughed and felt a 'clunk' in my lower back. I felt agonising pain and frightened my wife as I screamed out in pain. I was taken back to hospital and two days later was operated on. The surgeon had removed the part of the disc that had been 'left in place' after the first operation, along with the 'debris' and had also dealt with two other discs that had herniated – both which had been visible in previous MRI scans. The operation was successful. 
I have the greatest confidence in my surgeon who continues to assist and support me. She explained that my spine had been impacted from my working life and I have further herniating discs in my neck and in the lumbar area. This might mean that future spinal operations will need to take place. 
My life has changed completely as I am in constant pain 24/7, 365 days per year. The medication I take has little or no impact on my pain and has only caused me weight gain which has just increased the severity of my symptoms. I have oxygen therapy to aid my severe fatigue and breathing issues which helps. I also have deep tissue massage, the Alexander Technique and have tried chair yoga. I meditate daily which, for me, helps my multiple conditions. 
I now have to use crutches, a walker or my second hand power chair to get about due to my mobility issues, increasing spasms and fatigue. I use other specialist techniques I was taught at hospital and these do help to a point. However, once discharged from the FND physiotherapy there is abjectly little or no care pathway or support for this condition. 
I hugely miss my colleagues and the ability to be independent or live as normally as I can with all of my ongoing health issues. I feel that I am a burden on my wife who is my full time carer and who has serious health issues of her own.  
The experience my wife has encountered with how carers are treated in our local NHS Trust has been dire. The Trust has a carers leaflet which ticks all the NHS boxes but fails to support carers in any way. My wife has felt ignored.  
I now have to rely fully on the support and assistance of my wife for every minute, of every hour of everyday, 24/7, 365 days a year, year in year out – in isolation. I feel that once you cannot contribute our country's needs financially, then you become surplus to requirements. The only reason we are in our own home is that we have a very supportive Charity helping us – without their help we would not have a home to live in. If the cost-of-living continues to increase then God help my wife and I, plus all others in our position. 
The Brain and Spine Foundation has helped me hugely. I attend Neuro Social each week where I can meet others suffering from the same or similar symptoms. It does not really matter to me what a condition is called, it is the impact the symptoms have on my daily life. If you suffer a fall from multiple sclerosis (MS), non-epileptic attack disorder (NEADS) or FND the end result is the same, i.e. we do a face plant with the same physical and mental traumas! The support given to me and others by those who attend Neuro Social is amazing, uplifting and priceless. I would also say that those making it possible for us to have these meetings are also invaluable, priceless and are well respected. 
My friends and family regularly say,"You look really well" or ask, "are you getting better/or recovered from your health issues?". I would like them to stand in my shoes for just one week to see what having these health conditions really mean to my everyday ordinary activities and how I am treated.  
For people with neurological conditions, I believe the negative impact on our symptoms has been caused by Government. The intense period while we are trying to deal with the implications of our serious health issues and getting an accurate diagnosis, at the same time we end up having to fight NHS Trusts, DWP, and Local Councils. I was under the belief that these organisations were there to support the those in need? I have experienced health and support systems which are failing and imploding while failing citizens. We are sufferers and victims. We do not ask for much, we just require clear, concise consistent and appropriate treatments. It adds insult to injury having to go cap in hand to Government departments to apply for and obtain financial support at a time when we are at our most vulnerable – it is mentally damaging and soul destroying. 
I would advise someone newly diagnosed with a health condition, firstly to be kind to yourself. Secondly, pace yourself as everyone's health issues affect us all in different ways. Thirdly, look to others and support groups run by the Brain & Spine Foundation to help you. They are more in touch with your condition, and they can bring invaluable experience and support to help you on your new journey in life. 
Neuro Social members, along with those attending the Charcot Therapy Centre, inspire me. Many people in these groups suffer more issues and have limiting factors in their lives, but continue to take a positive attitude of 'what I can do' rather than 'what I cannot do' – at the same time all done with a smile!  
Plainly, please just support each other. Keep battling for a better, more supportive and caring health and support system for those afflicted by limiting health conditions. We are invisible in plain sight and you are NOT alone. 
Love to you all – you are amazing! 
Sharing your story helps drive positive change for people affected by neurological conditions. We like to share the experiences of real people who are using, fundraising or volunteering for our services to help raise awareness of neurological conditions.
There are many ways to share your story with us – in written format, as a video recording or an audio recording, we even have people share their story through artwork. It's up to you which you most feel comfortable with.
To share your story, get in touch with us. We'd love to hear from you.