Alison's story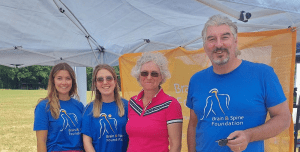 In my twenties I began experiencing neck and shoulder pain and weakness in my back after I had my children. I had severe migraines that would confine me to bed for 48 hours and leave me exhausted, as well as constipation. I saw osteopaths because of the pain in my neck and shoulders. I stayed active and did physically demanding work looking after horses. I'd muck them out, lift bales and bags weighing in excess of 25kg many times each day and not even question it. I was also looking after my family, elderly parents and working. It was full on and I rarely took a day off sick. Then, in my early thirties I began experiencing episodes of 'discy' back pain. Sometimes during episodes of severe pain I noticed that my left foot had become numb and it felt like half my underwear was missing! My GP gave me the usual treatment of painkillers and some physiotherapy.
At the age of forty-three, I was diagnosed with Spina bifida and related conditions including split spinal cord, transverse and complex tethered spinal cord, partial rudimentary sacral disc and degenerative disc disease. I had two operations to release my tethered cord, the second time for the scar tissue that had matured and crushed the nerves from the first operation.
In 2016 I attended a big music festival with a big group of my family. It took me months to work through the physical toll on my body. As at this point I didn't consider myself to have a disability I wasn't able to access the disabled facilities on request. However, I wouldn't have missed the experience with my family for the world.
"Gradually losing function and fitness affected every area of my life. However, I adapted in just about every way possible – relationships, socialising, personal care, diet, exercise, work."
In 2018 I was diagnosed with degeneration of the L5 facet joint when I visited the Pain Clinic. In 2019, things deteriorated: I was unable to concentrate or think straight, my memory was terrible and felt pressure under my skull and pain in my eyes. I had daily headaches and migraines and my speech was slurred and sometimes incoherent. I was doing a responsible job that required nuanced decisions. I was also losing sensitivity and dexterity in my hands. All of my adaptations and coping strategies weren't working any more. I really lost confidence in myself and I was doubting that my symptoms were real because they were fluctuating. In October 2019 I was diagnosed with cervical stenosis due to the degenerative disc disease.
The demands of looking after my children and parents are no longer there but instead of spending time on my passion for horses, I am no longer able to look after one. The poor motor skills, weakness and fragility of my back mean that doing this very physically demanding and risky hobby is beyond my limitations. My Neurosurgeon has advised me not to ride and I follow this directive only because of the distress it would cause my family if I did.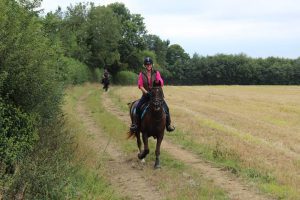 By last year I was in too much pain to stay in one position for any length of time. Even with a special orthopaedic chair funded by my employer. Eventually, and with a lot of anguish, I admitted to myself that I could no longer keep going and was signed of sick until I had recovered from my neck surgery. I had surgery on my neck for my cervical stenosis last November, it became urgent because I was starting to show symptoms of myelopathy. I am so grateful to the NHS that this was possible despite the pandemic.
"I have learnt to ask my family to help, which has been difficult for me."
I am now recovering from my surgery and the early signs are really good. I am hoping to return to work this year. I do my physio exercises, I visit complementary therapists, I look after my diet and try to keep my weight within a healthy BMI range so I don't put extra strain on my back. I walk as much as I can and do a little yoga with a teacher who really understands what it is to have spinal issues and adapts the postures for me as we go.
I am really lucky that I have a loving partner, family and a great bunch of friends around me, who I love dearly, and this is another reason to keep going and fighting to retain as much mobility as possible. I hide a lot of the pain and symptoms from them because I know how much my condition upsets and worries them. For me, there is a balance between looking after my mental health and my physical health. The two are not always compatible, so I sacrifice a little of my physical health to look after my mental health. In the long run though, this gives me the resilience to keep up the self-discipline to manage my symptoms carefully.
My Dad inspired me – he had one of the first brain tumour operations in 1948 on his cerebellum. He fought his way back from being unable to do anything for himself immediately after the operation to living a normal life, holding down a full-time job, commuting to London every day, walking to the station most days and working long hours despite having residual gross and fine motor co-ordination difficulties, fatigue and frequent headaches.
There have been a number of occasions where I have been really low and worried about the progression of my symptoms. I phoned the Helpline for some informed advice. The nurses were lovely, calm, reassuring and gave me some practical advice about who to contact and without putting words in my mouth, how to tell the right person what was happening to me. They had a depth of knowledge and time for me that I really didn't feel that my GP did – despite being willing to listen.
"It was a huge relief to be able to pick up the phone and talk to someone who understood what I was talking about."
Recently I have been joining in with Neuro Social over Zoom. This has really helped me stay positive in the lead up to my operation and recovery. I think it has been a strength that I have been able to be in the comfort of my own home, rather than having to go anywhere. Talking to other people and hearing about similar experiences of the fluctuating nature of our conditions is helpful.
For anyone who may be at the beginning of an experience like mine, I would say to keep a symptom diary, track medication and when you take it, your mood, fatigue levels, sensations or lack of and when it happens – what were you doing in the days leading up, what were you eating, for example? Score your pain out of 10. Consider whether you have to adapt what you are doing and if you choose not to participate in certain activities because of the pain or subsequent symptoms.
In 2021 and 2022, Alison organised a fundraising horse riding event and raised over £9,000 to help keep the Brain & Spine Foundation's services running. If you, like Alison, would like to organise your own event then we'd love to hear from you.