With a successful background in fashion and beauty, Jo Tutchener-Sharp directed campaigns and events for leading fashion brands, award ceremonies and high profile individuals, as well as setting up her own fashion PR agency.
Jo's life was put on hold in October 2015 after she suffered a brain haemorrhage, meaning she had to leave her children for a lengthy stay in hospital to undergo life-threatening brain surgery. She spoke to the Brain & Spine Foundation in July 2018 about her experience and how her clothing company 'Scamp & Dude' was born.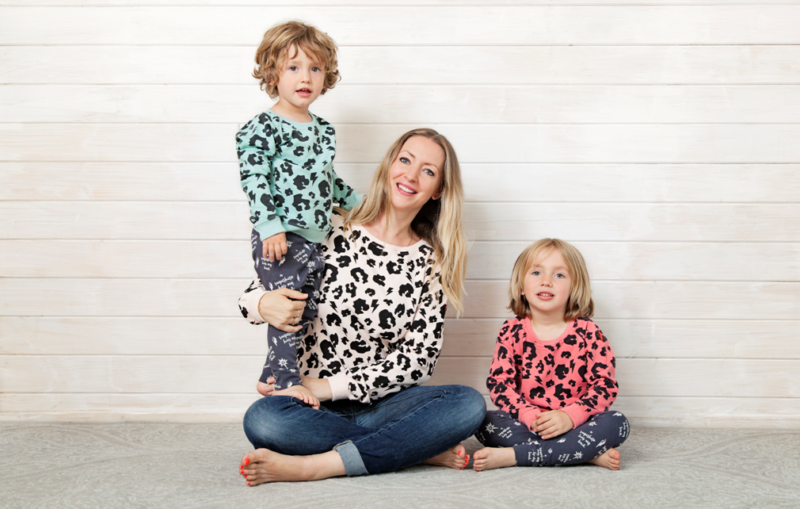 How did the brain haemorrhage you suffered in 2015 initially affect you?
It all started with a spasm in my face. I was going through an extremely stressful time in my life and I knew something was wrong. The spasm was the first warning sign but a couple of months later I developed a terrible headache and extreme nausea so I took myself off to the doctor, who sent me straight to hospital. They started treating me for meningitis (which apparently has similar symptoms to a haemorrhage) while they waited for the results of a brain scan. I went to sleep and was woken up at 1am to be told that they'd found a lump on my brain: this was one of the worst moments of the whole ordeal.
It was such a shock and all I could think about were my two boys, who were just 1 and 3 years old at the time. I lay awake all night worrying that I may leave them without a mother.The next day I was told I'd suffered a brain haemorrhage and that they weren't sure whether the lump was a brain tumour or a cavernoma. I had to wait for a month to see if the lump grew, before being told that surgery was the best option.
I had surgery to remove the lump in January 2016. It turned out to be a cavernoma - a cluster of abnormal blood vessels, usually found in the brain and spine. Unlike arteriovenous malformations, cavernomas do not have well defined arteries or veins connecting to them.
It was such a shock and all I could think about were my two boys, who were just 1 and 3 years old at the time. I lay awake all night worrying that I may leave them without a mother.
How did your clothing company 'Scamp & Dude' first come to life?
I came up with the idea behind the brand when recovering in hospital and desperately missing my children. We had to be apart for ten days which was so hard; this is what inspired the creation of the Superhero Sleep Buddies.  The Superhero Sleep Buddies are dinosaur and bunny Superhero shaped cushion comforters which sit on the bed watching over kids while they sleep, keeping them safe. Designed to deal with separation anxiety, a pocket on the back holds a photograph of whomever they want to keep close. My biggest fear was that I wouldn't survive the surgery so I thought a lot about my children growing up without me and how they would cope without a mummy.  My kids were lucky but so many aren't, so we donate a Superhero Sleep Buddy to a child who has lost a parent or is seriously ill themselves for every one sold. We work with Great Ormond Street and Grief Encounter to help give the kids in their care a Superhero to watch over them.
What has life been like since the brain haemorrhage and how does the future appear?
I live a normal life now. I struggled with migraines for the first 18 months after my surgery, but that's all. I feel so so grateful, as I know how lucky I am not to have any neurological damage from the bleed or surgery. I was so lucky with the location of my cavernoma, it was in a low traffic area of the brain, probably the very best place it could have been.
What support and services did you find useful during your recovery?
It's so scary when you are diagnosed with a life threatening illness. I would lie awake at night worrying and spend hours searching the internet for stories from people who had been through what I was going through, desperate to hear something positive. I took great comfort in reading case studies from support groups like the ones run by the Brain & Spine Foundation.

I had my surgery at the National Hospital of Neurology and Neurosurgery on Queen Square. The staff there were absolutely amazing - I couldn't have received better care. I stayed in hospital for ten days post surgery and when I got home I didn't require any additional support (apart from my check ups, scans and a couple of trips to A&E paranoid I was having another bleed when the migraines struck). My recovery was aided by me focusing on helping other children who are very sick or had lost a parent by starting Scamp & Dude.

Coming so close to losing my life gave me a new found purpose which really helped my recovery. I had my surgery in January 2016, registered the company in March 2016 and launched Scamp & Dude into Liberty in November 2016. I look back and can't believe how quickly it all happened - it's amazing what being given a second chance at life can do! I have a new fire in my belly and I am so passionate and determined to help as many kids (and grown ups!) as I possibly can.
So it's true what they say, from something dark, can definitely come something light.
And finally, do you have any words you live by?
Be kind and be loyal. It isn't about how important or powerful you are (or think you are), what ridiculous title you give yourself, or how many followers you have; it's about how you behave, what difference you are making and how you make others feel.
Life is short – live it. Have adventures, push yourself, take risks, work hard and have no regrets. Wear your best pants, burn your candles and drink your best wine. You never know what is around the corner so make each day count.