The Helpline gave me hope for Mum at a time when we were locked down. They are a light at the end of the tunnel.
At 77 years old, Mum was independent, fit and active. She was living in Cyprus and I would call her every day but on the May Bank Holiday I couldn't reach her. I called one of her neighbours who broke down her front door and found her semi-conscious on the bathroom floor. She had probably been there since early morning.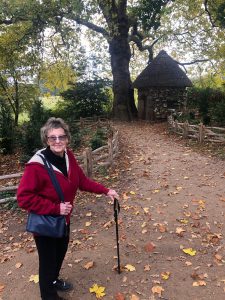 After being transferred to a neurological ward in Nicosia Hospital I was told that Mum had suffered a subarachnoid haemorrhage and due to the location of the aneurysm she would need a craniotomy to have any chance of survival.
When Mum was admitted to hospital I wanted to get to Cyprus very quickly, but the pandemic meant that no flights were leaving the UK apart from repatriation flights for Cypriot residents and nationals. I contacted my local MP and the British High Commission in Cyprus who were fantastic and were able to give me a seat on a flight at short notice. On arrival I had to take a Covid-19 test and I was placed in a hotel and couldn't leave my room until a negative test result was received. After talking at length to specialists both in the UK and Cyprus, I gave permission for Mum's operation to go ahead while I was quarantining.
I was told I should say my goodbyes to her and I prepared for that. She'd had a severe bleed and I didn't think she'd survive.
I had what I hoped wouldn't be my final call ever with Mum. The staff at Nicosia held a phone to her ear, she could barely speak, but I gave my love and remember being very upset at the end of the call in my hotel room which had an armed guard. It was long two weeks of quarantine but at least I could visit Mum in hospital afterwards.
Those days were some of the most difficult of my life. My partner provided so much support to me via telephone and Face Time while I was away and I am incredibly grateful for her support – I know it must have been difficult for her too while I was away during lockdown.
It was great to talk to the Brain & Spine Foundation helpline both before and after Mum's operation. They gave me hope for Mum and advice on potential operation outcomes. They shared other stories from patients of a similar age to my Mum who had recovered.
The Neurosurgeon in Nicosia was very reassuring, for example, I knew Mum wouldn't like her head shaved so I asked him not to shave her hair and he was true to his word! The operation went ahead and took six hours. Then, Mum was placed into the Neuro Ward and was woken up – this was good news and she even ate a small meal the next day! When I was able to visit her, it was shocking and upsetting to see her with her operation scar held together with staples. I took her iPad containing many photographs from her life and we looked at them every day for a week to help her recover her memories in the correct order. It really helped her and she made good progress.
I visited every day and took her favourite foods and then, after two weeks, the staples were removed and Mum was transferred to Melathron Rehabilitation Centre where she spent a month having regular physio sessions to help her learn to walk again. By the time she left her memory was almost back to normal and I stayed with her in Cyprus for another month to help her with her mobility. Sometimes she walked with a frame and other times she would use a wheelchair.
Mum has been very brave and strong throughout, a real testament to her as a person. She didn't complain at all and has no recollection of what happened to her on that day in May.
In September Mum flew back with me and she has now permanently relocated in the UK. She now has her independence back and can walk unaided without a frame. We are all so proud of her. She is still taking anti-seizure medication and this will last a year. Her scar has healed perfectly and cannot be seen and she is able to walk fine but can sometimes have balance problems if she walks two miles or more. The care she received in Cyprus was great and we're extremely thankful for their professionalism and support. Mum has made a great recovery and a subsequent scan showed no further issues.
If you're going through something similar, have faith. It might seem at first that all is lost and you may be thinking the worst. Don't lose hope. Talk to support groups such as the Brain & Spine Foundation. Remember, it's incredible what a Neurosurgical team can accomplish. Talk to medical teams and get them to tailor the help that is right for you or your loved one.