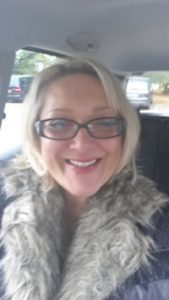 It was fairly late in the evening and I started complaining of head pain (which I remember being rather intense). I heard a bang and thought someone had been shot in the street (I found out later that sound was a haemorrhage in my brain). My little boy dialled 999 and saved my life. 
I was taken to King's College Hospital and had to wait for the neuro team (I had no idea at this time what had happened as I had lost consciousness). I went through my first angiogram, hearing "all clear" throughout the procedure until a silence descended in the theatre and the atmosphere changed. I was informed that I had suffered a massive subarachnoid haemorrhage and needed surgery.
I remember feeling hysterical and terrified. I thought I can't do this; I want to get out of this bed and run away from all of it. It now feels like it was an 'out of body' time for me.
After surgery, I was pretty disabled with significant memory damage and inability to hold a conversation, walk, wash or anything normal and simple. My parents were told that even though I had survived they expected me to not last very long as the bleed was so massive. 
Six months later, my mum noticed I was dragging my right leg, unable to move my right arm properly and my speech was slurred so she insisted that I see the Neurosurgeon. 
I had another angiogram and a massive second aneurysm was discovered in the same site as the first - ready to burst.
My second surgery was a massive operation. I am not sure when I woke, but think it was days later. I had no direct vision in my right eye (it was like looking down a chess-board tube of black and white squares) and I was very distressed, not really able to cope. Flashes of anger and upset plagued me. And I was so very, very worried about my little boy.
Suffice to say it was the darkest most terrifying place and time in my life. I did not want to burden my parents or my friends and this is when I started calling you guys in so much distress and you were absolutely amazing.
I truly don't know what I would have done without someone on the end of the phone to offload onto. 
My gorgeous son Nathan, now 23, gave me the reason to live. I did not want to leave him without a mum, or alone, and have striven to fight my way back to work full time. 
I still get terrible head pain and suffer quite seriously with right-sided trigeminal neuralgia. I am on meds for life. I have hardly any instant memory and have to write everything down.
Onwards and upwards – I have plans to write a children's novel and there are other things I would love to do.  I don't know if the exhaustion I feel will ever improve now, over a decade later. But I have learned to live with what I have. I have to listen to my body and rest and sleep as much as my head needs me to. 
For anyone out there who is a young survivor – the fear lessens over time. The noises, which I had in my head for years post-op, settle. And you move forward.
Thanks to the Brain and Spine Foundation, my family and everyone that supported and supports me through my illness.
Julie