Our publications
Our publications are available to browse online and to download and print as pdf files. Fact sheets are available for download only.
---
Fact sheets
Brain and spine scans (information on CT scans and MRI scans)
TIA (Transient ischaemic attack)
Vestibular Rehabilitation Exercises
---
Give us your feedback
Please tell us what you think of our information so we can keep improving it, and click the link below to fill in our feedback form. 
The Information Standard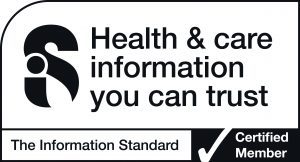 Brain & Spine Foundation was one of the first organisations in the UK to be certified as a quality provider of health information, as part of The Information Standard, a certification scheme supported by NHS England.
The Information Standard has been developed to support people in using health and social care information and, in doing so, help people to make confident, informed decisions about their health and social care. The Information Standard mark can help people make these decisions with confidence because it offers reassurance that health and social care information carrying the mark is from a reliable source.