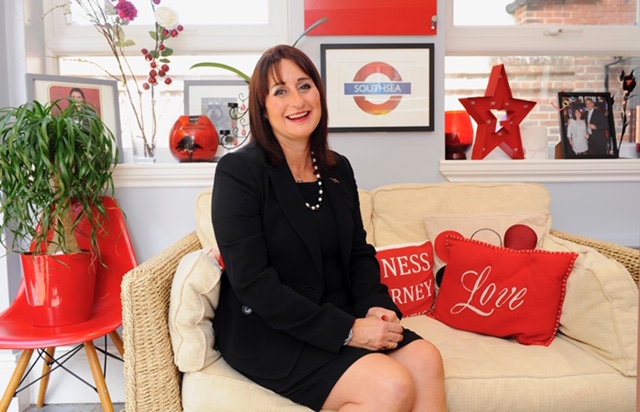 Hi, I'm Elizabeth (or Lizzie.)
Until 2011, I led a busy, happy life as a mum of two teenagers, working full-time as a Judge. Fit and healthy, I was training for the London Marathon when on the 8th September 2011, in an instant, my life was changed forever. I collapsed with a subarachnoid haemorrhage, after a giant aneurysm ruptured.
My husband was told I wouldn't make it through the night! I had a craniotomy and two aneurysms clipped and lay in a coma for two weeks, teetering on the brink of death. I regained consciousness, but was left with a severe brain injury. I was mostly blind in each eye, and paralysed with a host of significant life-changing health problems!
I soon found myself feeling abandoned by the NHS, with no treatment for 7 months. I felt alone, and at times wished I hadn't survived.
In June 2012, I was invited to a Stroke Association forum, and met the first other 'subarach' I'd ever come across. He had no family and very few friends. He'd had no treatment for his ongoing stroke problems so I befriended him, taking him out for a weekly coffee and started to help him to address his stroke issues.
The Council Sensory Loss Adviser heard about this and asked if I would support a lady with hemianopia. From that point, the Royal National Institute for the Blind; the Stroke Association, and Wessex Neurological referred people to me for my support. It started in Hampshire, spread to Dorset and with 20 people I called it The Hants & Dorset haemorrhage and hemianopia support group.
I believe that brain injury survivors need to meet people who have experienced what they're going through; who can empathise; understand; and share experiences. I believe that survivors feel most at ease with other survivors. Not having to explain why they are fatigued; or when background noise or crowds become too much, is massively positive.
8 years on, we still meet for coffee once per month;
I still go to hospital appointments to help my buddies ask the right questions and help them to access the right treatment;
I assist them with PIP/ESA assessments and tribunals;
We work together to help them find suitable voluntary work to give them a sense of purpose and new life.
Most importantly, through befriending, just holding their hands for a while they feel like they can cope better, do more, and their mood lifts.

As a trustee of the Brain & Spine Foundation, I have a vision of a network of brain injury survivor support groups throughout the country so that no one feels alone post injury. The Brain & Spine Foundation subarachnoid haemorrhage Facebook group works fantastically for online support. However, I also believe in bringing people together in person and can say from my own experience that meeting others who have real-life experience of this life-changing event can really help you to heal. My group is filled with love, respect, and humour. It is totally relaxed, with no expectation, and mutual support is everywhere.
We learn so much from each other – so be brave, give it a go, set up a group or attend one – it could be the best thing you'll ever do post- diagnosis, you'll always get more out of it than you put in!