On Friday 18 June 2021, I took part in the Brain & Spine Foundation sponsored silence event, 'You're on Mute' to support people living with neurological conditions like myself.
My name is Pauline Gilman, and I am an Ambassador for Brain & Spine Foundation.
On Friday 18 June from 8am - 6pm I went silent. Everyone understood my landline and mobile telephone would not be used to engage in oral conversations. My activity on my social media platforms seized for those hours by me announcing what I was doing that day before the clock struck 8am. I felt it was an appropriate course of action to take not being active on the sites. Personally speaking, I felt that would undermine the whole challenge.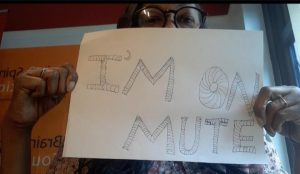 For me participation in a sponsored silence for the Brain & Spine Foundation allowed me to use the quiet time to reflect upon my purpose in life, my spiritual journey, people who I had loved and lost, raise awareness and funds for people suffering from neurological illnesses such as individuals like myself.
I must say, I did not for one minute believe that I would be defeated, for I knew I had a task to do. I was going to delivered it to best of my ability. I wanted to prove to myself that I could do this, and I successfully did.
Whilst being silent there was a moment when someone came to the door, my son promptly explained to the caller why I was not speaking and highlighted the Brain & Spine Foundation role in my life for the last twenty years.
The silence, felt like a 'beautiful solace' creating calmness in what would be an incredibly hectic noisy day. Those quiet hours enabled me to carry out my duties, fully concentrated in the tasks in hand. In fact, when the time had expired and I had completed the "You're on Mute" challenge, it felt like an "explosion of intrusion" in my head.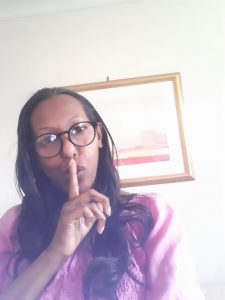 I would like to give a heartfelt thanks to my supporters for their kind words and generosity, putting their hands in their pockets, to support such a worthwhile cause, making the fundraising event successful.
They did this before the challenge, during the challenge and after the challenge. I am humbled and feel blessed beyond belief. A big thank you to them.
Without them the challenge would not have succeeded as successfully as it did. It was a joint effort.
The experience for me has been exceptionally wonderful. Moreover, I would encourage others to take time out for a while to do some fundraising of their own.
To date the totalled raised so far is £402.00. For me it is all about giving a little back, the joy that you feel in your heart is just beautiful.
You can read Pauline's story here. If you'd like to join Pauline by taking part in You're On Mute, or if you'd like to organise your own fundraising event then get in touch. Email events@brainandspine.org.uk, we'd love to hear from you.