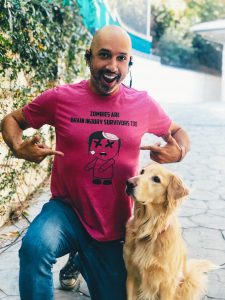 To help raise awareness as part of World Stroke Day, we spoke to Joe Borges about his own experience of stroke.
Joe has recently joined us as an Ambassador of the Brain & Spine Foundation. Read in his own words what inspires him, how his life has changed, and what he wants to achieve as an Ambassador.
How would you describe yourself?
I am very outgoing, helpful, kind, and compassionate. Some even would say I'm pretty funny.
Choose three words that describe your attitude towards life.
Joy, Laughter, and Love
Tell us about someone who has inspired you?
My partner, Felice LaZae, who has been by my side through thick and thin and was a huge support through my stroke recovery. Her determination, positive attitude, and talent inspire me every day.
Would you describe what happened to you?
On August 4th, 2016, I suffered a high blood pressure induced hemorrhagic stroke. I spent a month in the hospital and rehab recovering. I luckily was able to walk and regained most of my motor functions, but I still suffer from tremors in my right hand and memory deficits.
How has your life changed?
The whole course of my life changed. Before I was very stressed and depressed and now I am eating healthy, taking better care of my mental health as well as my physical health. I've also found a new passion and mission in life to help other stroke and brain injury survivors through my podcast, TheNeuroNerds.com, and my blog JoeSoRocks.com by creating community and support for survivors like me.
What one thing would make a difference in your life right now?
Being able to grow and build a bigger support platform for stroke and brain injury survivors.
What do you wish your family and friends/colleagues knew?
I wish they could understand how brain fog and fatigue affect me and what a challenge it is to function while experiencing it.
What would you tell someone who is at the beginning of an experience like yours?
I would tell them that they're not alone. There is a community of survivors out there like me who are ready to support them through this experience.
When did you come to find out about the Brain & Spine Foundation? You're going to be one of our Ambassadors, why did you want to take on this role?
I have been hearing about your work for the past year or so and I really admire the work you do to support stroke and brain injury survivors. I want to help support your efforts and broaden my reach to support more survivors through their recovery.
Anything else you'd like to share?
My purpose in life is to do anything I can to support my stroke and brain injury survivor community so they know that they're not alone and help them to not just survive but to thrive.
If you would like to read more about Joe, you can find his story here or visit his blog at JoeSoRocks.com.