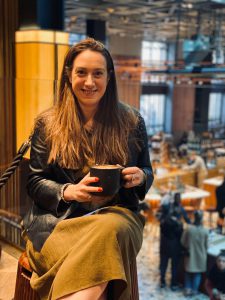 My Chiari malformation journey started in March 2018. I'd had an MRI on a Friday afternoon and was told I'd hear the results in a few weeks via my physio.
The MRI was booked looking for suspected arthritis in my spine. Three days after the MRI I answered a call from my physiotherapist telling me I would get a call from the neurosurgeon at Charing Cross as my brain had been visible on the MRI as well as they had discovered a syrinx in my spinal cord. I had been out shopping with my mum and remember being close to passing out as I heard the news. I was sat on the floor of a Primark while pointing at my head and mouthing to my mum that there was something wrong with my brain. I was in total shock and so scared because I had never heard of either before.
The next day I rang the GP hoping for some more information about the diagnosis, but they had to google it. I had already done that myself and didn't find much, but what I did eventually find was the incredible Brain and Spine Foundation booklet. It answered all of the questions I had and thank goodness it was available because it was another 5 weeks before I eventually saw the neurosurgeon for the first time.
I have Fibromyalgia so lots of my aches, pains and tripping over we had attributed to that but after reading that booklet my whole life started to make sense! 
2 and a half years on, I now see the neurosurgeon once a year for an MRI and check-up and I am finally over the worry and have been getting on with my life. I'm certainly cautious but no longer terrified like I was the first year of my diagnosis. My Chiari isn't too concerning and my syrinx fromT2-T4 with (touch wood) no change has no sign yet of needing surgery. 
Honestly, I can't thank you for that booklet enough! I gave a copy to my parents who found my diagnosis very hard to understand and cope with but now have a full understanding of everything. 
Raising awareness is so important for me, especially as Chiari malformations are an invisible illness. People look at me and presume there's nothing wrong when the truth is I live in pain and some days the smallest of tasks are so difficult to manage.
Thank you so much for sharing your story, Charlotte.