"You're on mute!"

You've heard it ten times a day or more. You've seen the apologetic oops-I-did-it-again gesture at colleagues and the frantic fumble to find the unmute button.
This spring, here's a reason to stay on mute.  Together, let's block out our Outlook calendars, enjoy uninterrupted focus time and raise funds through silence.
There are more people in the UK living with a neurological condition than cancer, heart disease, or diabetes, but you wouldn't know it. One-in-six people are affected by at least one neurological condition – that is over 13 million people.
For some our free Helpline, peer support groups and expert information booklets are crucial. For others, they can take the place of an understanding friend, providing support, clarity and reassurance.
How to take part
Get your colleagues or employer on board!
Set up a JustGiving page for your organisation
Let your colleagues know all about You're On Mute Day. A sponsored silence is a great way for your company to organise a meeting-free day whilst raising funds for a good cause.
Take part in some of our ideas below to boost your workplace fundraising 
Enjoy uninterrupted focus time. Find out more about the benefits of silence to brain health below.
Join our sponsored silence. Together, we can ensure anyone affected by a neurological condition can access our services. And together, we can build a community so no one feels alone. Your reason to stay on mute starts now.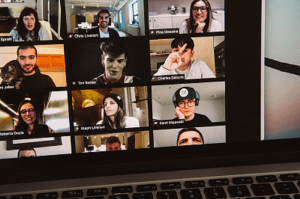 To take part, get in touch with Grace for your fundraising pack: grace.patient@brainandspine.org.uk