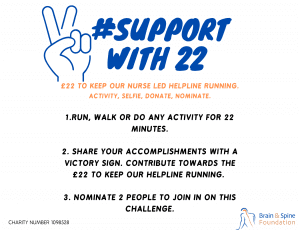 Our helpline is at risk and we need your support to keep our vital service running.
-With the uncertainty of funding and whether the London Marathon will take place or not, (the update has been pushed back again), we are running out of core income to keep our helpline afloat.
-A small charity like ours rely heavily on external funding and events like the London Marathon, to carry on providing specialist support and information for people affected by neurological conditions.
-So we are turning to the neuro and wider community to support us in making sure that our helplines can carry on helping those most in need through our new fundraising initiative #supportwith22
The importance and who it helps:
-Since the start of January 2020, our helpline have already answered a total of 895 calls and emails to the helpline.
-People are calling for information because it can be a worrying time, particularly when tests and investigations have been delayed, and medical support are stretched as a result of the coronavirus.
-£22 can help pay for a specialist nurse to run the helpline for an hour, so if you can contribute any amount or raise this together with friends - you'll make a huge difference for those who need the service.
What to do:
1) We're asking you to take part in any physical or creative activity for 22 minutes.
2) Share your achievements with a selfie and victory pose and contribute any amount towards our helpline.
3) Nominate 2 people on your social network to do the same.
You can invite friends to join and collect £22 together, or if you can't do the activities with someone else, you can do them by yourself. And you do not need to raise £22 alone, you can contribute as much or as little as you'd like.
Please also tag us @BrainandSpine with the hashtag #supportwith22 to raise awareness for this challenge.
Need some ideas?
Our Community Ambassador Carolyn is going walk 22 k in 2.2 days! "I know it doesn't sound like much but with constant back , hip and leg pain, for me that's certainly a bit of a challenge"
​