Welcome to #TeamBrainandSpine Thank you so much for choosing to support all those who are affected by a neurological problem.
Our mission is to improve the quality of life of people affected by neurological problems by providing expert information, support and education.
Without the generosity of people like you, we wouldn't be able to carry out our vital work - so thank you!
"I wanted to raise money for a charity which is not quite as prominent, and therefore not as well supported, as the big charities you always hear about, so that my fundraising would be more likely to make a difference"
How your money helps!
£22 could run our helpline phone and email service for one hour
£100 could provide a hospital with a box of our evidence based booklets
£250 could help us develop a new essential health information such as a factsheet or video
Take part in a challenge!
"It was great to push ourselves doing the challenge, doing something together"
Taking part in a challenge is a great way to not only keep your brain and body active but it also means helping other people at the same time!
Do your own challenge! Run/cycle/walk for the Brain & Spine Foundation- Get your work colleagues, family, friends or club involved. You can track your time and distance on a app such as Strava.
Take part in the 2.6 Challenge, think up something around the number 26 or 2.6 - One of our supporters Sandra walked 2.6 kilometres as her 2.6 challenge to prove to herself she could!
Take part in a Virtual Challenge - Earn medals for completing fitness challenges at home, all while raising money for your favourite charity.
Unable to do your work charity walk? Need some team building ideas in isolation?
Why not run/cycle/walk an accumulative distance, based on the size of your team, pick a distance that everyone can contribute to and have a time frame to complete the challenge (maybe a week).
Why not choose the length of a popular walk -
Coast to Coast Walk (182 miles)
Snowdon (9 miles)
Or choose a distance that symbolises your organisation, for example what emblem do you have?
One of our supporters works for Sovereign which has a penguin as their emblem, their event was centred around the number 565!
Why a target of 565?
We wanted to do something that connected with 'distance and tenacity' to reflect the spirit of the marathon and the capabilities of the penguin - our emblem – which can certainly and go the distance on land and sea!  Agile, emperor penguins can dive as deep as 565m - deeper than any other bird.
The event ended up raising over £3,000 for the charity!!!
Read more about the event here
What have some of our supporters been up to?
Amol ran his own marathon to raise funds for us when the marathon was postponed.
Emma created an event with her running club. She called it March Marathon Mission and people signed-up to an aggregate monthly target that suited them. The members could choose to run a - Single (26.2 miles); a Double (x2); a Triple (x3) or a Cheeky Half.  They each paid a minimum £10 donation to enter but most topped this up with £26.2 being a popular donation.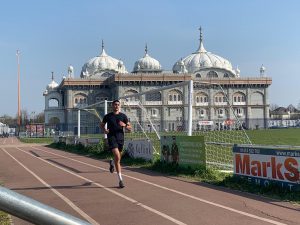 Family fun and child friendly!
Enjoy a competition? Why not create a competition between your family and cousins, or with your friends!
For example, try out the matchbox challenge - see how many different things can be put into a standard size matchbox! Have a deadline and a time to 'call in the results' and 'announce the winner'.
Areas of the house
You can fundraise in any part of your house, think creatively!
Garden – Who can hop the furthest? Set up an obstacle course?
Living Room - The perfect place for a family quiz!
Bedroom – Declutter and sell old clothes and toys
1) Set up a Virgin Money Giving page to access your unique Ziffit link
2) Visit Ziffit 
3) Enter the barcode number or ISBN of your product and get an instant value
4) Complete the online trade and pack up your unwanted goodies
5) Use Ziffit's free courier or drop-off service to send your items
6) The value of your items will be donated to your Virgin Money Giving fundraising page
Birthday coming up? Why not do a birthday fundraiser?
One of our supporters Rosie, raised a whopping £250 for her birthday!
"I did a birthday fundraiser for brain and spine to raise money and awareness for conditions close to my heart. With a sister living with epilepsy, my best friend with an AVM & aneurysms and my Grandma with Aphasia, this charity really does resonate with me. My Facebook fundraiser gave me the opportunity to raise money for brain and spine instead of receive presents and it was extremely rewarding. It also offered the opportunity for friends and family on Facebook to receive an update about how Grandma was doing (as communication is now extremely difficult) and reach out which was lovely."
Do you have a particular skill?
Why not do a virtual workshop and ask people donate to be part of it? This could be anything from crafts to painting.
Our Ambassador, Liz Bylett works at Follies and she runs painting classes!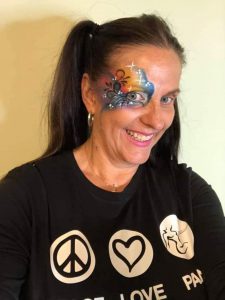 Virtual quizzes
Download a platform such as Zoom, create a JustGiving page, ask your participants to donate to enter the quiz, wow your friends and family with a quiz on anything you want!
Our marathon runner Vickie Crisp hosted a quiz via zoom to raise money for us. Vickie asked for people to make a small donation to her Virgin Money donation page – saying 'every penny counts!'
We're coming up with our own Brain & Spine Foundation quiz, so watch this space!
Also, check out this virtual quiz which saw around 100 people holding forks and singing in unison while trying to win a packet of toilet roll.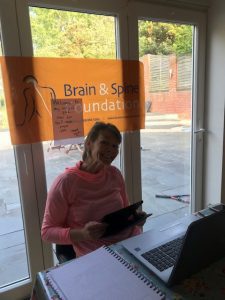 Spare change pot
Ask people to donate what they would have spent on their daily coffee, or the cost of their commute.
Amazon Smile
Shop on AmazonSmile at https://smile.amazon.co.uk/ch/1098528-0, and Amazon donates to The Brain And Spine Foundation, at no cost to you.

AmazonSmile is now also available in the Amazon Shopping App to all AmazonSmile customers using an iPhone or Android devices. When you have activated AmazonSmile in the app, every eligible purchase will automatically generate a donation for your organisation.
We'd love to hear more from you and your ideas about how to fundraise at home!