Our Community Ambassadors are 15 volunteers who represent the Brain & Spine Foundation in their local communities across the UK. They are dedicated to helping us achieve our mission to improve understanding and awareness of neurological problems, raise the profile of the charity to enable more people to access support, and encourage fundraising activities in their local community. Scroll down to read all of their inspiring stories!

Lauren Downie - Bromley
In the many years that Lauren Downie has been affiliated with the Brain & Spine Foundation, she has worked tirelessly to raise awareness of neurological conditions and has become an indispensable supporter. Through gaining media coverage and taking part in countless fundraising events, Lauren has increased our charity's profile and raised over £10,000 in funding for our cause.

Lauren first came into contact with the Brain & Spine Foundation after suffering a subarachnoid haemorrhage in 2004. Her consultant provided her with a booklet of ours and she went on to contact our helpline for further information.
"At last I was speaking to someone who understood SAH. Whilst my GP was very kind, understanding and supportive, due to lack of specialist training, few GPs really understand the long-term impact of SAH. The Brain & Spine Foundation was my only point of contact with specialist nurses who told me what to expect.
It's my goal to raise awareness of the charity's work and about the lack of local community support for people who have suffered a subarachnoid haemorrhage, as well as those with other neurological conditions. I really hope that in some small way I can help to bring about change to improve local services".
In 2015 Lauren received a first class honours degree in Health & Social Care, basing her final project on recovery from SAH. Lauren retired from the NHS in 2016 and has since been working in the field of education and training delivery. She feels there is a great need for better education amongst medical professionals regarding neurological conditions, including diagnosis, treatment and the long term implications.

Most recently,  Lauren ran the 2018 London Vitality 10k for #TeamBrainandSpine with a group of friends from her local running club, 'Bromley Zero to Hero Runners.'

Kavita Basi - Manchester
"In March 2015 I was taken into A&E suffering a life threatening illness which could have had a very different outcome to where I am today. At the age of 38 I had a subarachnoid haemorrhage (SAH). I have used my experience to be able to influence others by raising awareness of SAH, and turning a negative experience into a positive one, as I understand that I am a very lucky individual to have survived with no long-term serious effects. It has given me a purpose to take charge of who I am and what I want to do with my life. I have created video blogs to give an understanding and explain the severity of a brain haemorrhage, and how this affects friends and family, not just the individual that has suffered. I have done talks on radio, at schools and at the Royal College of Surgeons in London to share my experiences. Also to give hope and not 'give up'. I'm currently Vice President of a multi-national organisation and also now proud to be Ambassador for the Brain & Spine Foundation. I am author of Room 23 Surviving a Brain Hemorrhage where 10% of profits go to the Brain and Spine Foundation. I write a monthly Blog to share different experiences of my life which is shared by my website kavitabasi.com. I'm active on Facebook, Twitter and Instagram and regularly post motivating images and information".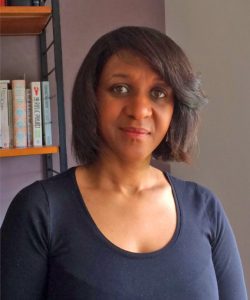 Carolyn Turner - Leicester
"My name is Carolyn Turner and I live in Leicester. I first contacted the Brain & Spine Foundation back in October 2013 following surgery for a spinal tumour. After I was discharged from hospital I felt very much on my own. I didn't know anyone else who had had a spinal tumour and there was no one to talk to regarding my ongoing symptoms. I came across the BSF by chance as I trialled through the Internet and spoke to the neuro oncology nurses who were really helpful. It was really reassuring having someone to speak to that understood how I was feeling and gradually as I began to feel stronger I felt I wanted  to actively get involved with fundraising and an awareness campaign."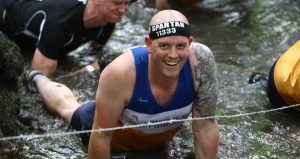 Simon Hensley - Staffordshire
"In February 2013 my close friend, Chris 'Fin' Findley, was attacked as he was walking home from a night out with friends. Fin was struck from behind, knocked unconscious and sustained life threatening brain injuries. He was placed in a medically induced coma and later underwent brain surgery but died ten days later of the injuries sustained.
Fin was a serving Police Officer and only 33 years old. He was unique, charismatic, the life and soul of any event and was loved by many. After a lengthy trial the person who inflicted Fin's injuries received three years in custody for the Manslaughter of Fin. A plaque on a bench did not seem befitting of Fin, so I started Finfest a small festival whose sole aim is to get all of his loved ones together to have a good time and raise money to help people affected by injuries such as Fin sustained.  I had zero experience of organising events prior to my first one but took the plunge and I am now a fully fledged festival organiser!! Don't be scared of aiming high, I was amazed by how many people will help you once you take the first steps! I chose the Brain & Spine Foundation as the festival's charity of choice and we now proudly donate all of our profits from Finfest to BSF. 
My family have also got in on the action, my sister Sarah Anderson and my wife Rachel Hensley have completed the Royal Parks Half Marathon and the London Marathon for the Brain & Spine Foundation, I have completed a Spartan Race and we have held three 'Finfests' and two standalone concerts to raise money for the Foundation. To date we have collectively raised over £7,200.
I am also a cluster headache sufferer so I have firsthand experience of how neurological conditions can have an impact on individuals and their families. 
The Brain & Spine Foundation are an awesome charity, who is most worthy of your support. 

Gavin Tovey - Kent
I am proud to be a Community Ambassador for the Brain & Spine Foundation. I first heard about the Brain & Spine Foundation from my Dad, Norman Tovey, who was part of the Foundation's 2004 London Marathon Team, when
he was 81 years young! He had previously received help from the Brain & Spine Foundation earlier in his life. He was a very keen sportsman, playing rugby for the mighty Harlequins, and organised half marathons at Cobham Hall where he taught Physics. He always helped and encouraged all his 8 grandchildren in everything that they did. I ran the London Marathon with my daughter Emma in 2015 in his memory and to raise money for the Foundation.
 Like my dad, I too love a personal challenge. Raising the profile of the foundation and raising money has given me an incentive to participate in many events, including the 66mile round the Isle of Wight run, Ride London cycle event and Clacton Triathlon.
My family, especially my sister Liz, gives me great support and has organised events of their own over the years including a vintage tea party, football tournament and art show.     
So many people are disabled by neurological conditions, such as multiple sclerosis, strokes or brain tumours. More people die from brain and spine conditions than from heart disease or cancer. There are also only a handful of specialists and so many of those affected never see one; tragic when we know specialist care can reduce death and disability by up to 30%. Despite this, neurological services receive less funding than other major causes of death and disability. I look forward to continuing to support the foundation, which will remain close to my heart.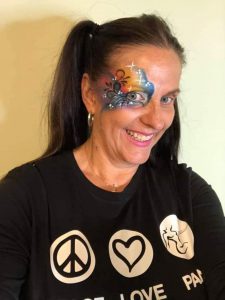 Liz Bylett - Kent
At six years old, Liz's father had a tumour on his brain and Peter, who set up the charity, carried out a pioneering operation on their father. He removed the tumour and lived till the age of 91. So they are very grateful for the Brain & Spine Foundation. Their father ran the marathon for the Brain & Spine Foundation at the age of 80, as he did a number of his marathons. Liz's daughter and partner are set to be running the London Marathon this year. Liz and Gavin are grateful for the work of the charity did for their family and for many other families.
'We will continue all of our fundraising efforts and attempts to support you, to date we've done marathons, I've had afternoon teas, I body painted one of the marathon runners because that's what I do for a living, I run a big body painting show and we always, always, always fundraise on behalf of the Brain & Spine Foundation'.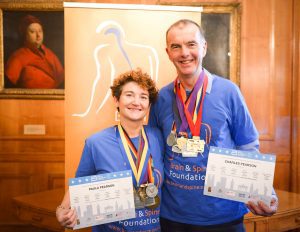 Paula and Charlie Pearson - Cheshire
On the 3rd September 1995 my 10 year old daughter Lizzie and my husband Charlie and our dog Boots were in a car accident near Bala, North Wales. Lizzie had suffered a severe percussive head injury, broken pelvis and a broken ankle; Charlie had suffered a fractured skull. Lizzie's condition deteriorated and she was transferred for surgery to Walton Neurology Unit in Liverpool. Over the next few days Lizzie fought for life in Walton as her brain swelled.  She survived the immediate crisis but remained ventilated and in a coma for weeks.  By mid-October she was transferred, still very unresponsive, but off the ventilator, for further treatment to Alder Hey Children's Hospital. She was discharged in a wheelchair in mid-December.  We were lucky that Lizzie received such a high level of specialist care and I remain convinced that had she not received it the outcome might have been very different.  Lizzie has gone on to further education and is now in full time employment.  
 
Charlie was discharged from hospital a few weeks after the accident. He was very disorientated and agitated and sadly he was pretty much left to cope alone with his injury as he was drawn into helping with Lizzie's care as she was so very ill.  Looking back I realise that the two of them had very different levels of support and care and it must have been very difficult and frightening for Charlie.  
 
The accident changed our lives and we live with the consequences daily but we also know things could have been a great deal worse and for many people it is. Neurological services are patchy and knowledge can be hard to come by and that is why we feel that what the Brain & Spine Foundation does is so important. The first Marathon that Charlie ran for the charity in 2001 was as much for the fundraising as for Charlie to feel that he was doing something positive after his accident, but the people we met and the vision that the Brain & Spine Foundation had inspired us. It has been a privilege to be part of their mission over the last 15 years, and to support the services it offers to people who have gone through brain or spine injuries or illnesses and to the families and friends of the patients – it's invaluable. It can happen to anyone and the effects can be devastating. I feel it is essential the Brain & Spine Foundation receive more coverage and recognition. By being Ambassadors we hope to raise the profile of the charity throughout the country for the work they put in.
 
Charlie and I have now completed all 6 major world marathons (London, New York, Tokyo, Boston, Berlin and Chicago) together and are in the process of finding out if we are the only married couple ever to have done so! So far, we have raised over £25,000 for the Brain & Spine Foundation.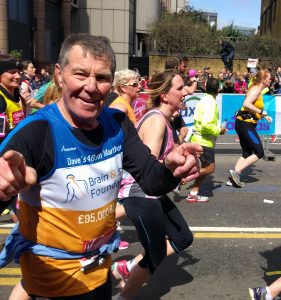 David Phillips - Warwickshire and Pembrokeshire
Back in late 2001 I saw an advert in the Daily Telegraph asking people who were running in the 2002 London Marathon if they wanted to run for the Brain & Spine Foundation. Well, probably like most others who saw it, I wondered who and what is this charity? Anyway I called the number and spoke to the then Head of Fundraising, who told me all about the Brain & Spine Foundation and so with a bit of persuasion I decided to give it a go.
16 years later at the age of 72 I ran the 2016 London Marathon for the 16th consecutive year for the Brain & Spine Foundation. This was my 465th full marathon and I raised, along with my 5 strong "Team Phillips" (now an annual feature in #TeamBrainandSpine) £12,000. So my total raised is now £97,000 towards my goal of £100,000 for the charity. From the start in 2002 I have realised the fantastic and super work this small charity does for sufferers of neurological conditions, which I hope I never encounter, or anyone else for that matter. Yet what I do know is that all sufferers who use the charity's services are in extremely good hands and won't get better help anywhere else.
 
Accordingly the Brain & Spine Foundation has become part of my daily existence and the office window of my accountancy business in Kenilworth is plastered with their posters and leaflets to the extent that people passing by and clients often pop in and donate to the Collection Box inside.
Fortunately none of my close family or friends suffers from a neurological condition, but should it happen we know where the best support and advice will come from. In my case, my daughter Anna who ran with me in the 2004 London Marathon, when Gabby and Kenny Logan were captains, claims that I'm already beyond the help of anyone as I can't have a "brain" if my goal is to run 500 marathons! She should know as she is a Physiotherapist at Warwick Hospital.
 
Well we'll see, but as long as I am able I'll remain a "fixture and fitting" of the Brain & Spine Foundation and do all I can for this fabulous, friendly and truly lovable charity.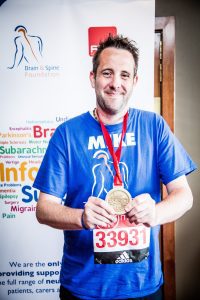 Mike Thompson - Lancashire
I am truly honoured to be a Community Ambassador for this fantastic charity. I first encountered the Brain & Spine Foundation in 2014 through an appeal to represent them in the 2015 London Marathon. From first contact with the team I immediately felt the welcoming and supportive stance of everyone involved... if you are thinking of running, why not get in touch and support the Brain & Spine Foundation?
I have been really fortunate in my life to have not had any direct effect from any of the conditions that the Brain & Spine Foundation support, but I have seen others affected. I am a Primary School Teacher and have taught several children suffering from such conditions and witnessed the bravery of those involved and their families. Charities such as the Brain & Spine Foundation provide unbelievable support to these people and make such an incredible difference. I live in Lytham St Annes near Blackpool in Lancashire and am thrilled to be able to continue working with such a dedicated charity.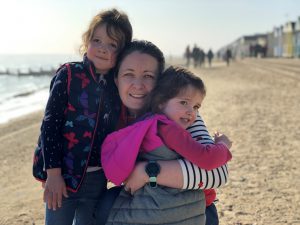 Emma Flin - Hertfordshire
I was 32, when I had a Sub-Arachnoid Haemorrhage (SAH). I had a busy career and had just finished a two-year Executive MBA programme.  My husband and I had married a couple of years previously and we were thinking of starting a family.
Almost ten years on, we now have two young children who keep us very busy. In addition, I have been able to return to the same career and lifestyle I enjoyed prior to my SAH. I am one of the exceptionally lucky SAH sufferers and I was diagnosed quickly which was key to the full recovery I went on to make.
We were provided with a variety of materials published by Brain & Spine Foundation whilst I was in hospital. This was helpful to my husband in the scary hours immediately afterwards so he could understand what had happened. He needed to understand quickly the risk and consequences, as he was taking responsibility for my decisions. The information was also vitally important to me - I struggled with my short-term memory in the early stages of recovery so the leaflets remained at my bedside so I could refer to the information 24/7 as I came to terms with what had happened.
Later in my recovery other information became relevant i.e. material about how to deal with fatigue, techniques to deal with short term memory issues, and how to return to work.  
I was fortunate that I was treated in one of the main UK hospitals for the treatment of SAH and the knowledge and resources in that hospital are incredible. SAH appears to be a hereditary condition in my family and I know from the experience of my Dad, that knowledge of SAH is not widespread in medical community so there is something of a 'postcode lottery' around the understanding of this condition, and how to manage recovery.  
I was introduced to the Brain & Spine Foundation team when I signed up to run the Virgin London Marathon for them in 2020 (now 2021 due to Coronavirus postponement).  When I was asked to become an Ambassador for the charity, I jumped at the opportunity as I understand the value of the work they do and look forward to becoming increasingly involved as they grow enabling the resources published to reach a greater number of people.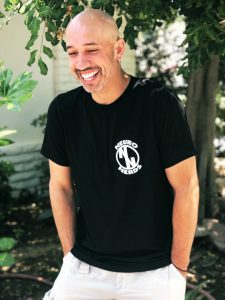 Joe Borges - Los Angeles
On August 4, 2016, at 39 years old, I suffered a major hemorrhagic stroke.  I spent a month in the hospital and rehab recovering. Initially, I was unable to walk and had left side neglect with other various cognitive issues. Thankfully I survived and most of my major deficits healed, but I still have memory issues and tremors in my right hand.  This experience was truly life-changing and eye-opening for me.  

Ever since I have been on a journey to live life to the fullest and help other stroke and brain injury survivors along the way. Young stroke and brain injury survivors often have trouble finding a community so I have been creating a support community through my podcast, TheNeuroNerds.com, as well as my blog at JoeSoRocks.com where I write about my journey and feature other survivors stories in a series called YouSoRock. I also created a YouSoRock Facebook support group and I'm in constant contact with survivors through my social media channels. 
In 2021, I am launching my coaching practice where I will be coaching fellow brain injury and stroke survivors through their recovery journey.  My goal is to be a guide through the ups and downs of recovery and provide tools to help with coping and thriving.  Find out more at JoeSoRocks.com.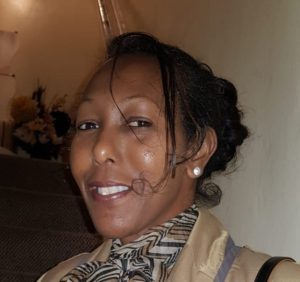 Pauline Hanson Gilman - West Yorkshire
I first became aware of the Brain & Spine Foundation in September 2001, when I had been given a series of MRI scans primarily, before my actual biopsy diagnosis which was administered, when I had open back surgery 29th May 2002 for an accurate diagnosis.
Fundamentally speaking, I now recalled whilst attending the Neurosurgeon clinic at Leeds General Infirmary being given the Brain & Spine Foundation booklet regarding spinal cord tumours from a medical welfare officer.

On reflection, this was an absolute lifeline. I was told it was a rare Intramedullary spinal cord tumour and it was like a needle in haystack getting any sort of remedial support in my region of the country, due to the fact it was a rare tumour.

At the prime age of 35, I felt my world crumbling down around me and fear for the future of not being on this planet to see my young children become adults with the thought of undertaking a lifesaving spinal tumour surgery. I was inconsolable. I recalled a specialist nurse from the Brain & Spine Foundation who calmed me down, mopped up my tears and provided me with empathy. She was always there at the end of the telephone as counsellor and a confidante, in reassuring me all would be fine regarding my extensive surgery.
In 2002, after the trauma of nine years of being undiagnosed, then commenced extensive surgery plus six weeks of radiotherapy. I then promised myself, that my goal would be when I became stronger, I would raise money and awareness for the Brain & Spine Foundation. One of my finest moments, were with the help from family, friends, and synonymous companies' contributions in September 2008 through an organised charity event, my wish was fulfilled. I was incredibly elated.
Since then, the Brain & Spine Foundation as continued to be close to my heart and every opportunity I had I would talk about the Foundation. For instance, when I decided I wanted to attend college again to do an English Language course we had to do a presentation. I chose to formulate my presentation based on the roll and topic regarding the Brain & Spine Foundation and spinal cord tumours. Again, the Foundation were instrumental in providing support and given out booklets to the students in my class.

Once again in 2017, the Brain & Spine Foundation came to my assistance, as I had a relapse and was in hospital for three months and home recovery. The Brain & Spine Foundation were always just a phone call away to help me and alleviate my anxiety, plus concerns.

Finally, since becoming a published author of "The Tapestry of My Life - A Poetic Portrayal of Harmony & Dissonance" in 2020, I have used my platform to promote awareness for the Brain & Spine Foundation and to help others who are in need and want to reach out.
I feel very honoured to be a part of the Brain & Spine Foundation.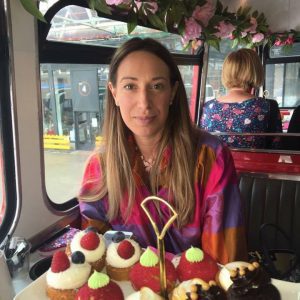 Charlotte Barwick - London
Hi, my name is Charlotte (Charlie) and I'm a Theatrical Agent. I first got in contact with the Brain and Spine Foundation in 2018 when I was diagnosed with Chiari Malformation and Syringomyelia over the phone and had never hear of either. Thanks to the booklet I was provided by The Brain and Spine Foundation most of my questions were answered before I saw my Neurosurgeon a long 5 weeks later. Since then, I have begun to raise awareness for Neurological Disorders.
I became an Ambassador at the end of 2020 as well as being one of the Ambassador Quiz Masters in the 2020 Online Christmas Quiz. Currently, I have a team of family and friends running on my behalf in the 2021 Vitality 10k Race raising valuable funds and awareness along the way. Here's the link if you want to donate: https://uk.virginmoneygiving.com/fundraiser-portal/fundraiserPage?pageId=1237093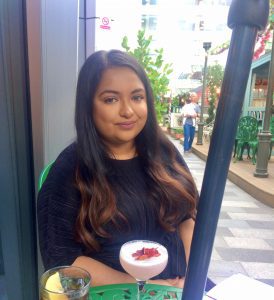 Zannath Khan - London
My name is Zann, 28 years old and I currently work as an Operations Finance Analyst in a BioTech company that specialises in Neuro-Imaging (covering mainly Alzheimer's, Huntingdon's and Parkinson's). I have an accounting background in Social care & construction. My experience in each of these areas has really shown me the importance of taking care of our mind.
Since the first lockdown, what became apparent was the lack of self care we all instilled in our lives, the pandemic had just started; the fear of the unknown was at an all time high. I created ZEMK Care | London, a self-care brand to promote wellbeing by creating luxurious long-lasting products that genuinely helps with mindfulness and having a moment of zen.
Very recently my own mother was hospitalised for a month and diagnosed with Encephalitis which is a brain infection that is rare but very serious. Which causes the brain to be inflamed and in many cases has lifelong symptoms like many other neurological disorders. This was an illness that we didn't know existed and completely blinded us and it was super tough for our family and friends...it still is.
I have learned and researched so much that I believe needs to be shared. This is why I intend to use our platform to raise awareness around neurological diseases, I personally don't want another family to experience what we did, bringing a little awareness will go along way!
Act of Intention is our pledge to give back. Giving back is part of my core being, a pillar in my faith and now a fundamental in ZEMK Care | London. It was important for me to create a brand that has a domino effect on self-care & caring for others.
So it was important to find a charity that covered all of the above, I am so happy to be an ambassador for Brain & Spine Foundation without education we will be lost!
We will be donating to BSF a portion of our sales. Please find us on Instagram @zemkcares and Facebook ZEMK Care | London & visit our website for more info www.zemkcare.com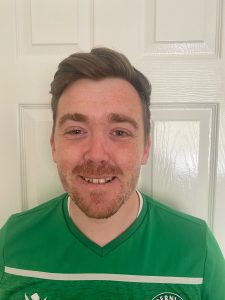 Jamie Kelly - Scotland
My name is Jamie Kelly and from the day I was diagnosed with chiari malformation the brain and spine foundation was my angel I knew nothing about prior to illness. 
The support I was given was incredible and it helped me come to terms with the new me. From sharing my story on their section of the webpage it helped me overcome the fears I would be judged for being a victim to something out with my control. I have had 9 operations and been paralysed twice and overcome it slowly but surely. Without the help again I wouldn't have the strength to do so comfortably. When I was asked to be an ambassador it meant the world to me. For me to reach out to others and share the work they do and help someone who maybe doesn't know about the charity and the support they could provide.. I have organised a north v south event this year in a social distanced walking/running challenge and raised over £400. I have a few other things in the pipeline over the course of the year. 
Being an ambassador is a great focus for me to get through any struggles I face. 
Team brain and spine is the team at the top!